Mexico's 10 tactical commandments under Juan Carlos Osorio
Mexico coach Juan Carlos Osorio can't put an exact figure on how many games he watches per week, but he says he "observes" around 15 every seven days in addition to his scouting of Mexico's player pool.
The observation doesn't involve laying back on the sofa and ordering a pizza, either. Osorio takes out his notebook, arranges his different colored pens and takes notes on game specifics such as team structures, passing patterns and substitutions. It's a learning experience and he catches the best game from Mexico, Spain, Germany, Brazil, Argentina, France, Colombia and a couple from the Premier League each week.
Osorio is a student of the world game and his innovative Mexico side is a blend of his influences, which are varied and go beyond soccer but are particularly rooted in aspects of the philosophies of Pep Guardiola, Marcelo Bielsa and Sir Alex Ferguson.
For fans interested in the tactical side of things, El Tri will be one of the teams not to miss at Russia 2018. Here are 10 things to watch out for:
1. 4-3-3 as base formation
Osorio's go-to team structure is a 4-3-3, with all the triangles and passing lanes it provides. The former Atletico Nacional coach regularly watches repeats of the Dutch team of the 1970s under Rinus Michels and is obsessed with total football. But the formation can be shifted into a 3-3-1-3, which is also used by Michels and Louis van Gaal among others. That shift or the use of a 3-4-3 is something spectators are likely to see at some point from Mexico in the World Cup.
But Osorio makes tweaks within his formations based on personnel. So another crucial element is whether Mexico plays a 4-3-3 with two primarily holding midfielders and one more advanced midfielder, or one holding midfielder and two interior midfielders further up.
2. Taking the game to the opposition
"I think the more you try to defend, the more you are inviting the opposition to get on top of you," said Osorio in an interview with ESPN FC, when asked about whether he'd ever send out a team to sit back.
"I'd say we'd plan a game against the top nations knowing that at some point the game will not go our way and we'll have to defend, but I wouldn't select my team based on the fact that we're going to defend and maybe have one or two transitions. That would never happen."
Under Osorio, Mexico has had an average of 60 percent possession per game in competitive matches over World Cup qualifying, the Confederations Cup and Copa America Centenario. But perhaps more revealing is that even against top opposition like Belgium (56 percent), Germany (61 percent) and Portugal (53 percent over two games), El Tri has had the ball for longer than the opponents.
3. Finding the right balance
Along with the attacking intent comes an attempt to find balance at the defensive end. Osorio laments the "machismo" of Latin American coaches who believe that talent alone is enough to win football matches. He's intriguing in the sense that as attacking as he is, stopping the opposition doing damage to Mexico is also a high priority.
"One thing is that as a manager I like to play offensive football but I have to be objective enough, clever enough to understand that it will not be the case against the top nations and that I need to have a team that can defend when we are having a hard time, even with the lesser teams," Osorio said. "I do think that as a manager I am unique, for better or worse.
"I try to combine and put a team that is capable of playing elaborate football but if we need to go to a plan B, we can play direct football."
Mexico's stroll through qualifying is evidence that it worked, although in big moments like the 7-0 defeat to Chile in 2016 and the 4-1 Confederations Cup loss to Germany in 2017, El Tri looked vulnerable at the back as those scorelines indicated.
4. Prioritizing defending aerial balls
If Mexico plays a particularly strong side in the air -- like the United States, New Zealand or Trinidad & Tobago -- Osorio responds by starting with at least five players he considers are good in the air. He respects teams that play direct football -- he went to England to study that aspect of the game -- and has attempted to add aerial security within the team to complement Mexican players' technical ability.
5. How his full-backs, holding midfielder play
One of the fiercest criticisms of Osorio is that he plays players out of position. A lot of the time it comes down to putting a center-back (Carlos Salcedo, Diego Reyes, Edson Alvarez) as a full-back to protect the back post from crosses coming in from the opposite wing. He prefers full-backs that are "markers," too. That isn't the case with key player Miguel Layun, although when Layun plays as a left-back the defense morphs between a back-three and back-four, with Layun given license to move forward into midfield, with the other defenders shifting across.
In the holding midfield position, Osorio looks for someone who is both comfortable playing out from the back and is good in the air, both for set pieces and to stop direct balls into the center-forward if the opposition is particularly direct. Osorio would like a Sergio Busquets style player in that position but he doesn't have that in Mexico and the holding role has proven to be arguably his most difficult challenge. In Russia, it is most likely to be Hector Herrera, with Reyes out injured.
---
World Cup 2018 must-reads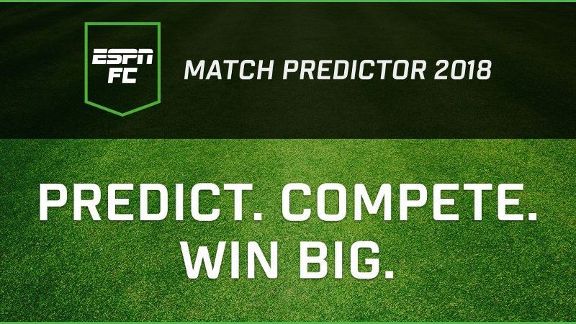 - Make your picks with ESPN FC Match Predictor 2018!
- Welcome to the Alternative 2018 World Cup Fans' Guide
- ESPN FC's experts make their picks
- Marvel's amazing World Cup spoilers
- Revealed: World Cup 2018 Ultimate XI
- Fixtures, results and full coverage
- Team-by-team previews of all 32 nations
---
6. Rotations
The Mexico manager became so sick of the criticism of his rotations that he started calling them "alternative tactics" back in August 2017. Nonetheless, the fact that Osorio rotates players from game to game is something for which he is always likely to get criticized from the vocal Mexico fan base.
Osorio likes to give players opportunities, conscious of opposing teams' strengths and has a background in physical conditioning, all of which feed into his philosophy of rotation. The counter-argument is that players need time on the field playing a system and with the same teammates to strike up a chemistry.
Osorio's defense is that only by fielding fringe players in important games do you get a sense of where they are in their development. Furthermore, he says that his starting teams in big games are quite consistent. Indeed, in his 25 games with points at stake or that have taken place in major tournaments, Mexico's key players are usually present: Herrera (24 games), Hector Moreno (22), Layun (20), Javier Hernandez (19), Andres Guardado (17), Raul Jimenez (17), Reyes (17) and Hirving Lozano (17).
Add into that Guillermo Ochoa, who has emerged as the No.1 goalkeeper over the last year, Nestor Araujo, who misses the World Cup through injury, and Carlos Salcedo, both of whom have become regulars under Osorio, and it's not as difficult as some suggest to deduce El Tri's starting teams.
7. Innovation from set pieces
It's an aspect of the game that has been garnering increased focus in recent years and Mexico's defending at set pieces, particularly corners, is markedly progressive. Osorio usually fields only five or six outfield players inside the penalty area, with four engaging in man-marking and one covering the space at the near post. One or two players are positioned on the edge of the penalty area, while three are left on the halfway line waiting for the counter.
The idea is to give the goalkeeper and defenders space and to reduce the number of opposition players in the box. It also converts a defensive situation into one that can quickly turn into offensive danger on the counter.
8. Strikers on the wing
It's not at all uncommon to see Osorio fielding a center-forward on the wing. Both Hernandez (and, more often, Jimenez) have had some success there. The idea with right-footed Hernandez is to play him on the left, making diagonal runs into the box and thus becoming much more difficult to mark than a traditional center-forward. The chosen center-forward tends to be good with his back to goal (Oribe Peralta, Jimenez) and drops deeper to draw a center-back out of position and leave space for Hernandez to run into.
With Jimenez, it's more an intent to make use of his aerial ability at the back post -- especially if the opposition's full-back isn't great in the air -- as well as as a target for longer balls out from the back that bypass the midfield.
This strategy is supported by full-back Layun pushing high up on one of the flanks, which allows the false wingers to move inside. Layun actually has more assists (five) in important games under Osorio than everyone except Herrera (seven).
9. Natural profiles for switches in play
Osorio's Mexico likes to play the ball on the ground, but an important element of its play is how the team invites opponents to press before switching play from one side of the pitch to the other. It's an attempt to gain numeric superiority in attacking zones of the field, particularly out wide. It's a key feature of positional play ("juego de posicion") of which Osorio is a keen adherent.
For those switches to work, Osorio likes the left-sided center-back and full-back to be left-footed, to more naturally play the diagonal ball out to the right wing. It works the same way on the other wing.
10. Fair play
"I do have it as a goal," explained Osorio about fair play. "We have to be a very competitive team, conceding the least amount of set pieces and please: Do not get a yellow card in the first half.
"If you do, at halftime, automatically I'll be looking at how to sub the guy with the yellow card because I think in football nowadays, it's very difficult to play 11 vs. 11, never mind 10 against 11. So I do have specific rules in the team: No kicking from the back, no elbowing, no fighting. I emphasize no cheap fouls, no cheap yellow cards."
Osorio brings fair play issues up regularly at team meetings. He takes it seriously.
Tom Marshall covers Liga MX and the Mexican national team for ESPN FC. Twitter: @MexicoWorldCup.