Conservative Minnesota, free-spending Atlanta seek their first points in MLS
Atlanta United began life in MLS last weekend in front of a raucous crowd in Georgia's capital.
This Sunday, it's Minnesota United's turn, as the Loons play their home opener against the fellow expansion side (5 p.m. ET, ESPN2/WatchESPN) just over a week after losing their inaugural match 5-1 in Portland.
Minnesota United FC
Atlanta United FC
Game Details
The score line against the Timbers was ugly. Several factors probably played a part in the lopsided result, however. It was a typically cold, wet March night at Providence Park -- home of the toughest crowd in the league, according to a recent ESPN FC survey of MLS players -- and the newcomers were up against a squad desperate to rebound from missing the playoffs less than a year after hoisting the MLS Cup.
Besides, winning on the road is tough in MLS. In 2016, no club in the then-20- and now-22-team league managed better than a .500 away record. Now Minnesota is looking for some home cooking of its own.
"It's going to be around 30 degrees around kickoff," said Loons director of player personnel Amos Magee, who grew up in St. Paul and spent most of his playing days with the minor league Minnesota Thunder before embarking on a management career that included MLS jobs as an assistant in Portland and with D.C. United. "For those of us who are from Minnesota, we're relishing the conditions. The whole city is excited about it."
Indeed. More than 30,000 supporters are expected inside TCF Bank Stadium on the campus of the University of Minnesota, where the club will play until its arena opens next year. Given the weather, foe and local support, this one ought to be closer.
Still, there are legitimate questions about how competitive Minnesota United will be in its maiden campaign. The roster Magee and sporting director Manny Lagos -- another St. Paul native -- have assembled doesn't feature even one high-earning designated player. Contrast that with Atlanta, which boasts the league maximum three DPs.
Atlanta also lost its debut, of course, dropping a 2-1 decision to the New York Red Bulls after leading for most of the match. Minnesota was down by only one before Portland added three goals in the final 10 minutes. MLS commissioner Don Garber, who was in attendance for both tilts, isn't worried about Minnesota's poor first impression.
"I'm not at all concerned," Garber told reporters at halftime of the Atlanta-Red Bulls game. "I've got great confidence that they're going to be successful."
How successful either expansion side can be on the field in Year One remains to be seen. The buzz around Atlanta's moves -- it also landed former Argentina and Barcelona manager Tata Martino as coach -- has club president Darren Eales trying to manage expectations.
After all, just one of the past 11 expansion sides has qualified for the postseason right out of the gates. The last newbies to make the playoffs were the Seattle Sounders in 2009.
"Expansion teams average a point a game, which is nowhere near playoffs," Eales said. "We know that the stats are against us."
That isn't the only thing. As strong as Atlanta's squad appears, everything else is being built from scratch. That isn't the case in Minnesota, where a successful lower-division history provided a solid foundation when moving up to the top tier. This formula has worked in places such as Orlando, Montreal and Vancouver as well as in Portland and Seattle.
"I think most of our supporters get it, that as an expansion team, it will be difficult," Eales said. "All we can do is try to be as competitive as we can."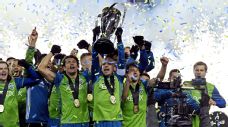 Subscribe to MLS LIVE today!
- MLS LIVE is back with an all-new platform for 2017
- Get the most matches ever, LIVE and ON DEMAND
- Packages start at only $14.99 a month
- Watch MLS on your phone, computer or TV
- Subscribe today at live.mlssoccer.com
The same goes for Minnesota. Magee admits that the Twin Cities' recent history in the professional game will help, but only to a degree. Just one holdover from last year's NASL side, defender Justin Davis, started the first match.
Midfielder Miguel Ibarra -- who spent 18 months at Liga MX side Club Leon since his last appearance for the Loons -- and striker Christian Ramirez did enter off the bench, with Ramirez scoring the club's first MLS goal. But history has informed their approach, one that differs drastically from Atlanta's.
"We believe our fan base are really sophisticated soccer fans, and that we don't need a [Zlatan] Ibrahimovic to get them into our stadium to watch our team play," Magee said. "As opposed to splashing money on players and then trying to build a team around them, we want to build a really good team and then find the absolute right players to fit into it."
When will that happen?
"We haven't put that strict of a timeline on it," Magee said. "It may come down to this summer if we feel we're a player away from being in the upper echelon of the Western Conference. Maybe at that point we make a move. Or, we may feel we're five pieces away and we're not going to go spend our money on one guy. But the expectation is we'll be right there in the thick of it this year. Maybe that's a little unrealistic. But that's the plan."
Doug McIntyre is a staff writer for ESPN The Magazine and ESPN FC. Follow him on Twitter @DougMacESPN.