Aguero ineffective as Man City lack punch in loss at Liverpool
Manchester City's unbeaten "start" to the season came to an end in a mad 10-minute spell at Anfield, falling 4-3 on Sunday. In truth, this was comfortably the worst performance of the campaign for Pep Guardiola's men -- hardly a surprise at Liverpool, given it's what City do -- and too many players had an off day to have deserved more than nothing. Nevertheless, a late rally almost got them an undeserved point.
Positives
The spirit to keep playing in the face of a 4-1 deficit was admirable, if suicidal at times, and it was that that almost saw City steal a draw. To have played as badly as they did and to have trailed by such a margin as they did, to have lost by only one goal is a positive to take -- not that goal difference should come into where City finish in the table this season, given their 15-point lead.
Negatives
Where to start? City had no control of midfield, despite starting with two players in Fernandinho and Ilkay Gundogan who should have been able to stand up to Liverpool's threat. The centre-backs couldn't cope under Liverpool's pressing, though John Stones will question why he wasn't given a foul in the build-up to the second goal. City themselves barely carried a goal threat until there was 10 minutes to play. Even the normally reliable Ederson was off his game.
Manager rating out of 10
6 -- It's difficult to say that Guardiola did much wrong, but what chance did he have with 35 years of City's appalling history at Anfield to combat?
Player ratings (1-10; 10=best. Players introduced after 70 minutes get no rating)
GK Ederson, 5 -- A normally reliable face in City's team, the goalkeeper had his worst day at his new club. He flapped at several crosses and didn't get them to safety, while he booted a clearance straight to Mohamed Salah when City really needed to calm down in a mad spell.
DF Kyle Walker, 5 -- A good assist for Leroy Sane's equaliser was the highlight of his performance. The lowlight was having to continually chase Firmino, Salah and Sadio Mane as he and his teammates were caught out.
DF Nicolas Otamendi, 5 -- Had his header crashed in off the bar instead of over when the score was 1-1, it could have been a different game. That said, there was little more he could have done to score it. Defensively, he was at sea too often and didn't do enough to close down the space between City's lines.
DF John Stones, 5 -- Similarly with Otamendi, the centre-back was struggling under the pressure he was put under. However, he was fouled for the goal that made it 2-1 -- he has to do better to read the pass and intercept it, but he's still shoved in the back -- and he desperately needs to rediscover the form he was showing before his injury.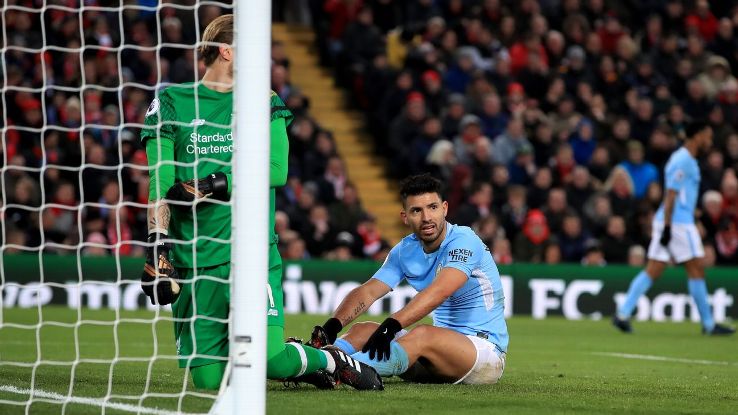 DF Fabian Delph, 5 -- The midfielder had little time to impose himself on the game, still filling in at left-back. He was forced off injured on the half-hour mark.
MF Fernandinho, 4 -- Fernandinho doesn't struggle to put his foot on the ball normally, but he wasn't at the races at Anfield. He gave the ball away twice in the build-up to the opener, and he couldn't impose himself on the match.
MF Ilkay Gundogan, 5 -- A calm finish set up a final charge in stoppage time, but that was the best Gundogan had to offer. He drifted in and out of the game to the point where he went missing at times.
MF Kevin De Bruyne, 7 -- Bizarrely, De Bruyne was one of the best players on the pitch despite the awful City showing. For large spells, it looked like it would only be the Belgian who would give the visitors any impetus. He was City's hardest worker of the game.
MF Leroy Sane, 6 -- A cracking finish brought City back into the game, but he was a little lightweight at times and didn't get stuck in as much as he could have done when the chips were down. He brightened up again towards the end as City almost got back into it.
MF Raheem Sterling, 6 -- It was odd given that Liverpool had taken a 4-1 lead that the home fans saved the biggest cheer for Sterling's substitution and he'd probably point to the lead his side have at the top of the table in response to accusations of being greedy. It wasn't his best game, but he was far from the worst player on the pitch and had a couple of first-half chances to get in behind.
FW Sergio Aguero, 4 -- But for a final flurry in the closing stages, you could have been forgiven for forgetting the striker was even on the pitch. It's fair to say he's struggling at the moment.
Substitutes
DF Danilo, 5 -- Replacing the injured Delph on the half-hour mark, it was an evening to forget for the full-back. Out of position on the left side, he did little to calm the game.
MF Bernardo Silva, NR -- Coming on for Sterling on 71 minutes, the midfielder was a little lightweight at times, but he scored a decent effort late on as it presented itself to him in the box.
David Mooney is ESPN FC's Manchester City blogger. Twitter: @DavidMooney