Liverpool can't afford to suffer lapse against overmatched Swansea
Liverpool play in the last Premier League game of the weekend on Monday night at Swansea City. It's a fixture where they've had mixed results since the Welsh side were promoted under Brendan Rodgers in 2011. In fact, it's an even split of two wins, two draws and two defeats.
Liverpool are on a five-game winning streak, which began with a resounding 5-0 showing at home to Swansea themselves, but things will be a little different for the bottom side in the upcoming fixture. Swansea appointed Carlos Carvahal almost immediately afterward and have had some reasonable results, losing only to in-form Tottenham.
They're also playing at the Liberty Stadium, where they've made the Reds struggle in the past. In their recent 5-0 loss they were cut open by an inspired Philippe Coutinho. If this match is to be a tighter affair, many will be watching closely to see how Liverpool cope without their major creative force.
The team played well against Manchester City but always finds it easier when the opposition want to play football themselves. This could be a different scenario. Although Swansea have been acclaimed for their stylish play in the past, they are in terrible trouble and need to fight their way out.
It might seem arrogant but it's unlikely many Liverpool fans will focus on the opposition right now. What Jurgen Klopp and his players have done in recent months has been exceptional. It hasn't been without its drama, of course, but as fans emerged miserable and worried from Wembley after Tottenham tore Liverpool wide open last October few could have predicted how their team could improve so much by the turn of the year.
There is a tremendous imbalance in the league that now dictates that any loss of points to a bottom-10 side is a big blow to those at the top. When Swansea won 3-2 at Anfield roughly this time last year -- they were 20th before that game, too -- it was regarded as a major embarrassment for the Reds rather than a brilliant performance by the Swans.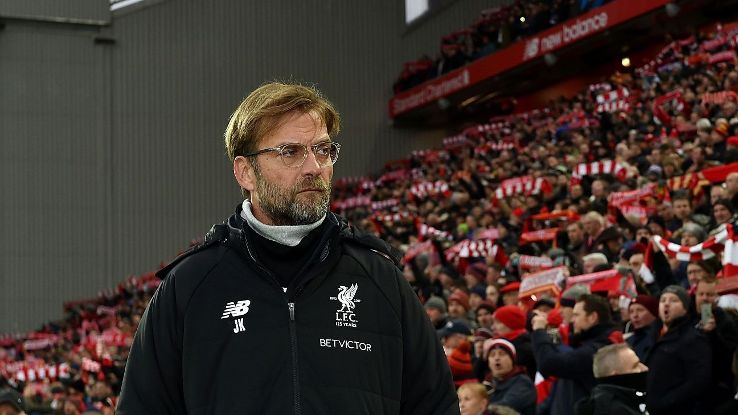 It's noticeable how the points are being divided up and teams reach mid-table with reduced numbers nowadays. It's a season skewed by the superb results of Manchester City, perhaps, but if the big clubs continue to scoop up and even stockpile all the talent in England, a lack of competition will make the league considerably less eventful.
Yet Liverpool must pay no heed to that and try to strengthen themselves after the loss of Coutinho, but there are less than two weeks left in the January transfer window. They may feel secure with their current squad, especially now that they're actually getting some rest days for a change.
The problem will really emerge once the window closes. They play Porto in the Champions League round of 16 on Feb. 14. Though obviously a good side, it was a draw Liverpool welcomed and there's a chance of more European football to come after that. If they progress in the FA Cup as well, tremendous pressure will be placed on a squad that admittedly did so well in the congested autumn and winter months.
Klopp has already put up a great fight with one arm tied behind his back. His transfer net spend over his 28 months in charge is a staggering minus £40 million pounds. That figure is certainly lopsided because of the Coutinho sale, but still incompatible for a club that makes so many demands of itself.
Would it take a poor January result to emphasise an addition or two is vital? Since Liverpool's opponents are Swansea, West Brom and Huddersfield before the window closes any loss would seriously undermine team confidence right now.
Coutinho is said to have been sold for threatening to undermine that togetherness and cohesion Klopp worked so hard to construct. It's an interesting conundrum he has to solve during the next two weeks, especially as this is easily the club's longest unbeaten run in all competitions for many years. Even Rodgers' title-chasing side could not manage this.
One of the main factors is the superb form of Roberto Firmino, who is even receiving comparisons to a goal-scoring great like Robbie Fowler recently. It shows how Liverpool score goals from a variety of forwards. Interestingly, Firmino has scored five in his past three tussles with Swansea. Mohamed Salah's form is excellent, too, and Sadio Mane is getting back on track. Two excellent strikes against Burnley and Manchester City will hopefully give him more confidence.
Defending against Liverpool isn't so simple nowadays. They blew Manchester City away in a devastating eight-minute second-half spell. If they can do that to the runaway league leaders they can do it to anyone. Fans have seen erratic performances before, however, and will still fear the likes of Swansea if the Reds should lower their guard and get too cocky.
Steven Kelly is one of ESPN FC's Liverpool bloggers. Follow him on Twitter @SteKelly198586.